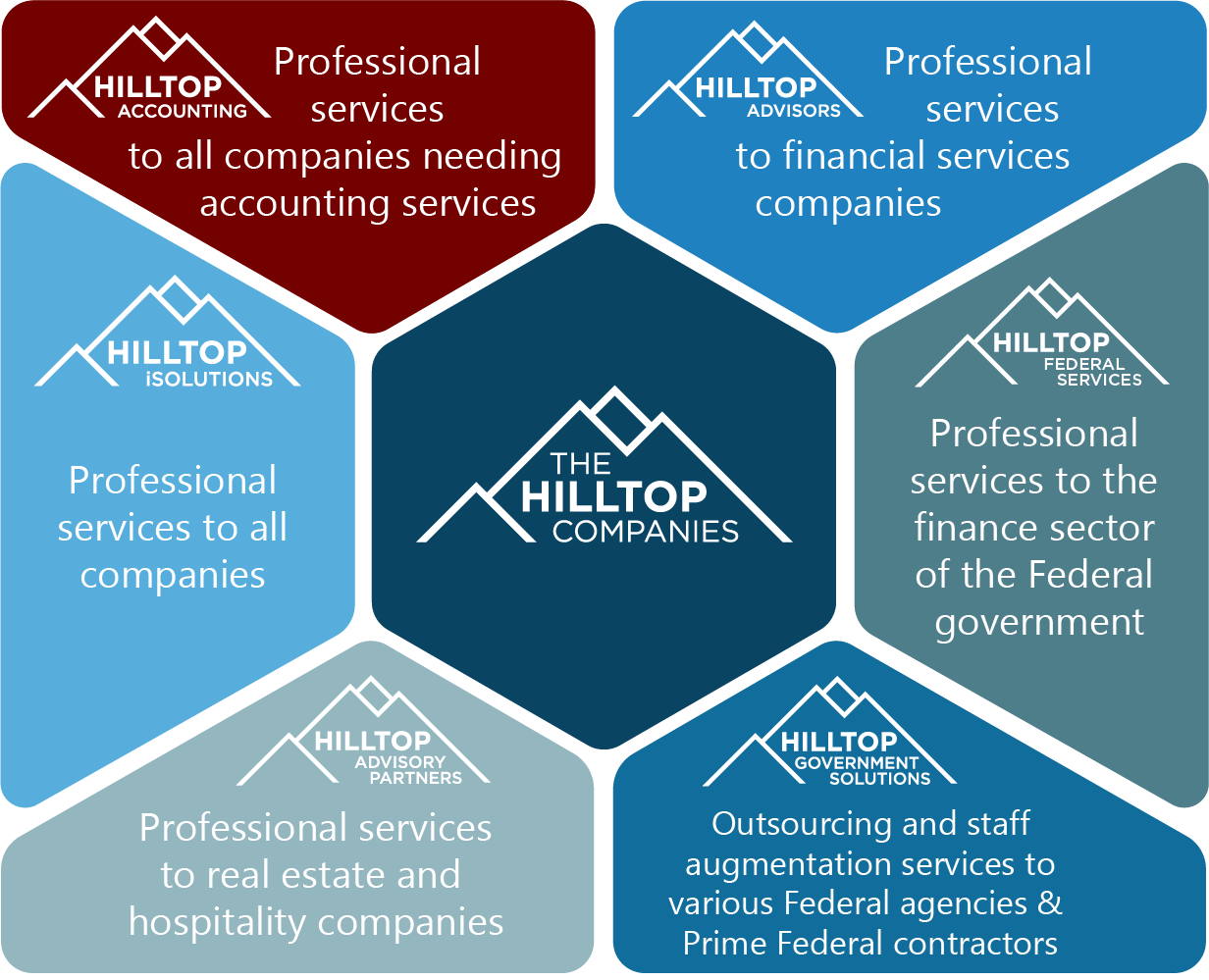 The Companies' History
In June of 2005, industry leader Geoffrey (Jeff) A. Oliver founded Hilltop Advisors, LLC which has become a leading financial services consulting firm.  Hilltop Advisors concentrates on the credit/lending aspects of the financial services industry, the loan servicing aspects and the sale/securitization of financial assets.  Jeff formed the company following a combined 29-year career at KPMG LLP and BearingPoint, Inc., where he led many national practices (practices including the Lending, Homebuilding, Structured Finance/Securitization, REIT and other audit and consulting practices).   His KPMG career allowed him to start and build Hilltop Advisors given his national clients and Federal agency contacts.  Hilltop Advisors has become one of the leading national boutique firms in providing consulting to banks, credit unions, mortgage lenders, loan servicers, issuers of securities, the GSEs (Fannie Mae and Freddie Mac) and various equity investors that invest in the credit, servicing and capital markets sectors.  In addition, Hilltop Advisors is approved as a contractor for the GSA Financial and Accounting Business Services contract and performs consulting for the Federal agencies involved in the credit (lending and loan guarantees), securitization, and regulatory aspects of Federal financial sector.   We conduct such business in either a Prime or Subcontractor role and utilize our very experienced and highly trained consultants to perform such work.
In 2007, Hilltop Accounting was formed to focus on the finance and accounting needs of our clients and to expand into assisting small and medium sized companies (in all industries) with meeting their accounting, compliance and other financial requirements.   Our accounting firm provides CFO/Controller duties, budget and cash management assistance, selection and implementation of financial systems, financial statement analysis and reconciliation, audit and tax return readiness assistance, fraud investigation and forensic accounting services, among other things.   Hilltop Accounting attracts accountants who want to provide consultative services that help all of our clients, including all industry segments such as our Financial Services, Federal Financial sector agencies and emerging companies.
Also in 2007, Hilltop Advisory Partners was formed to focus on consulting and accounting services to the real estate community of developers, homebuilders, asset managers, property managers, REITs, investors, leasing and sales brokerages, etc.   Advisory Partners will team with real estate experts as needed to meet various client needs including market analyses, valuation, leasing, sales, etc.  We have performed due diligence, property or asset manager audits, REIT formation assistance, lease compliance testing (rent increases and common area expense allocations), etc.
In 2014, Hilltop Government Solutions (HGS) began operations to focus on providing outsourcing and/or staff augmentation services to various Federal agencies.  We conduct this business through subcontracts with a number of large consulting/accounting firms and diversified or special designation consulting firms (8A, women owned, Disabled veteran owned, etc.).  HGS provides services which require clerical and process execution (no higher education, technical training or significant industry experience required).
In late 2015, Dan McLaughlin was hired as President of Hilltop iSolutions (after spending 20+ years starting up and operating the Mortgage Electronic Registry System (MERS).  iSolutions' focus is on IT and data controls, data integrity, security (including cyber activities) and compliance with various Federal and other regulations, use of eNotes in the mortgage industry and identifying/implementing lending and loan servicing applications.  iSolutions has also built internal applications used in many of Hilltop's compliance audit engagements.
In early 2016, Hilltop Federal Services (HFS), a subsidiary of Hilltop Advisors, began consulting to Federal agencies that make loans, insure or guarantee the repayment of such loans by the borrower, securitize loans and other assets or provide regulatory oversight to the financial services industry (the Federal Finance sector).  Our focus is on all aspects of such agencies operations including finance, accounting, audit (compliance, controls and audit readiness), lending, loan guarantee or insurance operations, enterprise risk management (especially credit and counter-party risks), securitization, fraud, data/cyber technology, etc.
For marketing purposes, the six companies are referred to as "The Hilltop Companies".  We utilize the multiple company structure to allow for growth in the number of owners, flexibility of raising capital if needed and making a change of operation if desired without affecting all of the operations.   While our contracts may reflect different companies providing a service, our goal is to ensure that our engagement efforts, staffing and our effective client solutions can be provided without our clients ever being concerned as to which company or which consultants/accountants are working on their engagement.   Our promise is to "bring the best"!
As the business grew, the senior team members also expanded, bringing exceptional skill, knowledge and experience to the Hilltop companies.  All former occupants of the C-suite and other high level officer roles, the Company's leadership hails from some of the largest financial service organizations in the country and each possesses an average of 25+ years of experience.  Hilltop's senior team members are nationally recognized industry vanguards; innovative thought leaders who actively engaged in the industries in which they do business. And every day, they embrace our business philosophy of collaborating to create the best solutions for every client.
The Hilltop companies serve national and international clients ranging from start-up to Fortune 50 companies.  Our headquarters is in McLean, Virginia.   Our leadership and many of our employees are "road warriors" and have traveled extensively to meet client obligations.
Hilltop's Culture
Hilltop is a "can do" company.  Our experience shows that transforming organizations is achieved through the skillful alignment of vision, people, process and technology solutions.  Hilltop's culture supports our client efforts because our collaborative, collegial, pro-active and motivated approach enables the skillful alignment needed to successfully design and implement "real change".  Hilltop is a leading boutique financial services consulting firm because we know our clients' business and can "get things done".   Hilltop doesn't "silo our experts" into different groups, departments, regions, etc.  All of our professionals are available to work on any client engagement, cross our corporate lines as needed and collaborate to create implementable solutions for our clients.
Our company wide collaboration ensures that Hilltop brings the most relevant skills, past experience ("done this before"), topical knowledge, and most importantly different viewpoints of the client's challenge.   Our different views of the client challenge result from utilizing our multiple disciplines (finance, operations, compliance, technology, risk management, etc.).  We don't view a technology project as only needing technology professionals and similarly the business challenges will always have someone on the team that introduces technology issues/concepts to be integrated.
Our collegiality is critical for our client success because our employees are rewarded for their cooperation and their teamwork is a key measure of performance.  Individual performance is important but teamwork is mandatory.   Collegiality ensures that our collaboration will result in a "win for the client and a win for our team".
Our collaborative approach extends to our client personnel as well.  We know that our role is to help our client succeed and we know that if the Hilltop team is not viewed as part of the client team – the project has a high risk of failure.  Hilltop also sees collaboration as a way to fill the needs that will ensure our client's success in dealing with their challenges.  We see collaboration as a way to bring all relevant knowledge and experience (especially the kind of "been there, done that" experience that identified what worked and didn't work in past engagements).  Hence our culture of collaboration starts between our team members (to take advantage of all their individual knowledge, skills, experience) and continues by building a collaborative partnering with our client personnel to allow them to see that "we have their backs" and their success is our success.
For our employees (especially those with less than 20 years of experience), Hilltop's collaborative and collegial approach provides a one of a kind environment where you will work closely with very experienced team members and client personnel.  This experience will not occur with the large consulting/accounting firms.
To continue and support our culture, Hilltop targets consulting candidates who can be pro-active in anticipating issues, requirements and communication needs so that our engagement teams can try to stay "one step ahead" of our clients.   Our consultants should enjoy challenges, the puzzling issues, multi-faceted issues, tough projects and working as a team.  Positive attitudes are a must as Hilltop believes there is always a plausible solution that is implementable in every situation.  Our consultants look forward to implementing a successful solution – not brainstorming "blue sky" ideas and leaving the client to figure out how to implement such.
Collaboration means we listen to our clients and our teammates.  But we also help our clients challenge the existing policies, procedures, organization and technology where appropriate.   Our culture supports our business approach that solving a business challenge requires an alignment of a sustainable vision with our client's employees, policies, process and technology.  Achieving substantive change is impossible without alignment of these factors.